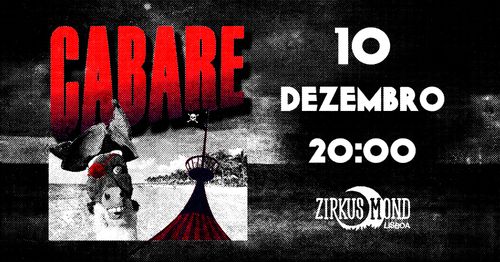 —-------(Pirate Portuguese)—-------
Ahoy! 🏴‍☠️
Arrgh! Como estão todos?
Preparados para um espectáculo pirata?
Um espetáculo totalmente diferente do normal.
Um espetáculo de circo pirata! Arrgh!☠️
Chegamos a bordo da tenda de circo do Zirkus Mond, no Senhor Roubado, Odivelas para pôr as nossas espadas em uso, os nossos melhores licores a prova e músicas para navegar nos nossos corações. Ahoy!
Venham e assistam a um espectáculo no próximo dia 10 de Dezembro!🦜
🗓 Sábado, 10 de Dezembro.
🕢 Abertura porta: 19h00.
✨ Cabaré: 20h00.
🎪 Bilhete Cabaré: 7
🎪 Bilhetes Criança : 3
❗️ Entrada reservada a sócios. ✍🏼 podem se fazer sócios diretamente na bilheteira. 👩‍👧‍👦 Cartão de sócio 2022: 3
ps: Ahoy, se quiserem aprender a traduzir para pirata: https://lingojam.com/piratespeak
—-------(Pirate English)—-------
Ahoy! 🏴‍☠️
'ow be everyone doing?
be ye ready fer a pirate show?
a show totally out o' our usually shows.
a pirate circus show! ☠️
we arrive aboard o' the circus tent o' zirkus mond lisboa in senhor roubado, odivelas to put our swords to use, our best liquors to test an' our sailin' songs to our 'earts.
invintin' multiple artists to 'elp us with this here task we need yer 'elp too!
come an' watch our show on the 10th o' december! 🦜
🗓 Saturday - December 10th
🕢 Doors Open: 19h00.
✨ Cabaré: 20h00.
🎪 Ticket Cabaré: 7
🎪 Ticket Children: 3
❗️ Entry is reserved to associates ✍🏼 you can be made associate at the door. 👩‍👧‍👦
Associate Card: 2022: 3

ps: if ye want to learn Pirate Speak use this here website: https://lingojam.com/piratespeak