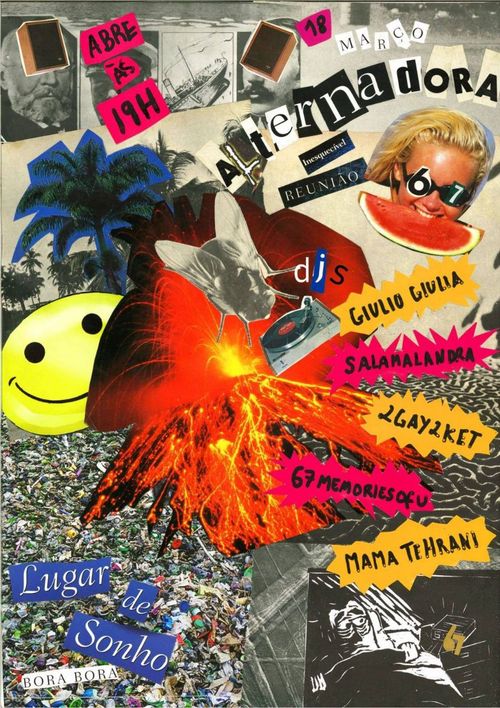 🌴🔥 INESQUECÍVEL REUNIÃO 🔥🌴
---
---
🌴🔥 INESQUECÍVEL REUNIÃO 🔥🌴
No dia 18 de Março as águas do Sado agitam se dando à costa uma panóplia de espécies raras à ilha da AlternadorA.
Vem daí dançar, em bikini ou fato de mergulho, vestido de gala ou chinelo de enfiar no dedo, numa noite de misturas sinergéticas entre humanos e golfinhos, acid e funaná, areia e betão.
Para todes curtirmos esta festa, pedimos que:
---Não estaciones à porta
---Não tragas o teu cãopanheiro
---Não partilhes nas redes sociais
---Não tragas comportamentos sexistas, homofóbicos, racistas, ou qualquer outro comportamento abusivo ou opressor
🔥 🌴UNFORGETTABLE REUNION 🔥 🌴
On the 18 of March the waters of Sado will stir, bringing a series of rare species to the coast of AlternadorA island.
Come dance in bikini or wet suite, fancy dress or flipflops, in a mixed synergy night between humans and dolphins, acid and funaná, sand and concrete.
For everyone to have a nice party we ask you:
---Don't park in front
---Don't bring your doggy
---Don't bring sexist, homophobic, racist, or any other abusive or opressor behavior