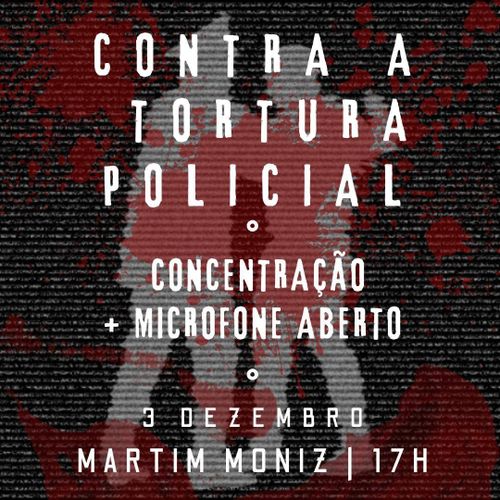 Contra a Tortura Policial
---
---
Um jovem negro brasileiro de 18 anos estava no dia 17 de novembro de manhã, às 9h30, no Martim Moniz. Esperava uma entrevista de emprego quando foi abordado por polícias não identificados, tendo sido brutalmente espancado e sem qualquer motivo criminal detido e levado para a esquadra de Moscavide. O jovem em seguida foi levado ao hospital e novamente encarcerado na esquadra.
Mais uma pessoa negra, cigana, migrante, ou pobre agredida por polícias.
Espancada e insultada como muitas nas ruas, nas esquadras, nas prisões do estado português.
Mesmo sem perturbar a chamada ordem pública, nós, nossxs amigues, companheires, filhas, filhos, podem ser sistematicamente abordadas por polícias não identificados, brutalmente espancadas e detidas de forma arbitrária.
Outro espancamento e outra detenção que é apenas um exercício de poder, violento, racista, xenófobo, patriarcal e, se queremos usar as palavras do "sistema de justiça": ilegal.
Praticado com a conivência do Estado e das demais instituições.
Mais uma mãe migrante, negra, cigana ou pobre, enganada e a quem é recusada informação sobre o estado do seu filho detido e obrigada a procurá-lo durante horas entre esquadras e hospitais.
Mais uma mãe que encontra o seu filho com a cara pisada, olhos esmurrados, peito com escoriações e quase sem conseguir andar devido aos espancamentos que lhe infligiram nas pernas e no corpo todo.
E finalmente, médicos coniventes com a tortura aplicada pela polícia, que não escrevem um relatório digno, nem explicam à mãe em que condição se encontra o seu filho espancado e novamente detido.
Tudo isto sucede no mesmo dia em que é divulgada mais uma investigação que denuncia a infiltração da extrema-direita dentro das forças policiais portuguesas.

NÃO FICAMOS CALADES PERANTE TANTA VIOLÊNCIA!
QUEBREMOS O ISOLAMENTO DOS QUE SOFREM A VIOLÊNCIA POLICIAL!

CONTRA TODAS AS FORÇAS ARMADAS, CONTRA A VIOLÊNCIA DO ESTADO, PELAS PESSOAS PRESAS EM LUTA!

CONVOCAMOS AS PESSOAS AFETADAS, SOLIDÁRIAS E COLETIVOS, A PARTICIPAREM NUMA CONCENTRAÇÃO NO MARTIM MONIZ, NO DIA 3 DE DEZEMBRO ÀS 17H.
MOSTRAMOS A NOSSA SOLIDARIEDADE! ESTAMOS JUNTES!

NÃO ESQUECEMOS, NEM PERDOAMOS!
----
An 18-year-old young Brazilian man was, on the morning of November 17 at 9:30 a.m., in Martim Moniz. He was waiting for a job interview when he was approached by unidentified police officers, brutally beaten, and for no criminal reason arrested and taken to Moscavide's police station. The young man was then taken to hospital and after incarcerated at the police station, again.

One more black, gypsy, migrant, or poor person beaten by police officers.
Beaten and insulted like many others on the streets, in police stations, in the prisons of the Portuguese state.

Even without disturbing the so-called public order, we, our friends, companions, daughters, sons, can be systematically approached by unidentified police officers, brutally beaten and arbitrarily detained.

Another beating and another arrest that is just an exercise of power, violent, racist, xenophobic, patriarchal and if we want to use the words of the "justice system": illegal.
Practiced with the connivance of the State and other institutions.

One more migrant mother, black, gypsy or poor, deceived and denied information about the state of her detained son and forced to look for him for hours between police stations and hospitals.

Another mother who finds her son with a bruised face, eyes punched out, his chest bruised and barely able to walk because of the beatings on his legs and all over his body.

And finally, the hospital doctors who connive with the torture applied by the police, who do not write a dignified report, nor explain to the mother in what condition her beaten and re-arrested son is.

All this happened on the same day that another investigation, denouncing the infiltration of the extreme right within the Portuguese police forces, is made public!

WE CANNOT REMAIN SILENT IN THE FACE OF SO MUCH VIOLENCE!
LET'S BREAK THE ISOLATION OF THOSE WHO SUFFER POLICE VIOLENCE!

AGAINST ALL THE ARMED FORCES, AGAINST STATE VIOLENCE, FOR THE PEOPLE ARRESTED IN STRUGGLE!

WE CALL ON ALL AFFECTED PEOPLE, SOLIDARITY GROUPS AND COLLECTIVES, TO PARTICIPATE IN A GATHERING IN MARTIM MONIZ, ON DECEMBER 3RD AT 5PM.
WE SHOW OUR SOLIDARITY! WE STAND TOGETHER!

WE DO NOT FORGET, WE DO NOT FORGIVE!